ages since my last post, things have gone a bit mad in the amoeba household.
not been able to produce much stuff latley because of a new job.
anyway i started on a new space monkey movie a few weeks back and its looking good, but dont hold your breath, it takes ages to finnish one, finally getting to grips with the editing software so this ones going to look extra lush.
same sort of stuff as before with giant robots, hotrods, and a killer surf soundtrack.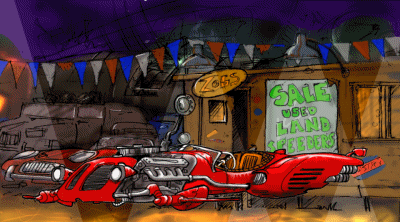 the story requires a dodgy second hand car dealership, i suppose they all look a bit like this whatever universe you might inhabit .